Lending a Helping Hand This Holiday Season
We understand that there are many families in our communities that are having a difficult time making ends meet. That is why this holiday season, we are doing something new, and we feel, very special.
---
Wildfire's Holiday Harvest Giveaway
---
This year, Wildfire has partnered with Hidden Harvest, a non-profit food rescue organization, and Soldan's Pet Supplies for this special event.
Together we have filled 1,000 bags full of "shelf-stable food" for families in need, along with 75 bags for dogs and 75 bags for cats. Each bag contains enough items to feed a family for up to a week!
These bags are now available at Wildfire branch locations for you to purchase to send to a family in need. Each branch is partnered with area food pantries that will come and collect the bags sold and distribute them to families in need through their pantries. The pantries will also have the ability to add fresh items to the bags.
All proceeds from the bags sold will go to Hidden Harvest to help them further their mission of getting food to families.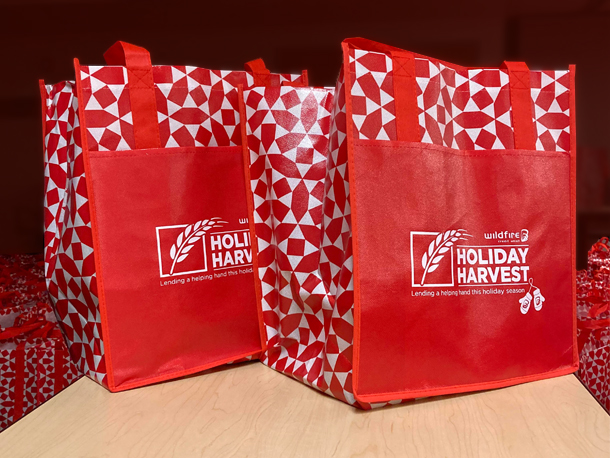 Details:
When: Bags will be available for purchase From November 1 through December 31.
Cost: $10 per bag.
Where: Each of our branch locations open:
Monday - Thursday: 9:00 A.M. to 5:30 P.M.
Friday: 9:00 A.M. to 6:00 P.M.
Bags can also be purchased through our drive thru lanes and our Call Center at 989-249-8200.
Wildfire's long-term commitment to the communities we serve does not just include banking services. It also includes our ability to provide a helping hand to the members of our communities. We are all about making a difference in someone's life, and what better way to do that than through our Holiday Harvest Giveaway!